My Dear Sisters,
Today, I would like to begin a series of posts that will help us to learn how to become more Christ like. If we can become more like Him, who was perfect, then we can be strengthened in faith and endurance. We will have the promised blessings that come only through obedience to that law. Each month we can learn a new attribute and work to apply it in our lives so that we can be on a path to becoming Christ like.
"When we obtain any blessings from God, it is by obedience to that law upon which it is predicated."
D&C 130:21
First, we must learn what we are to obey. What are the laws of the Gospel of Jesus Christ? We will learn that through scripture study. However; we all know some laws already like the 10 Commandments so we could start there. Choose a commandment and start applying it to your life.
More than likely you are not murderers so choose one you are having problems with, like lying. Most people have issues of lying so this could be a place to start learning how to become obedient to that commandment. When you fall short in this law don't give up but remember the Atonement of Jesus Christ and and pray for forgiveness then continue working on it. It won't happen over night and you will be tested from time to time but work hard to overcome the weakness and live a more perfect life.
"As we walk in obedience to the principles and commandments of the Gospel of Jesus Christ we enjoy a continual flow of blessings promised by God in His covenants with us. Those blessings provide the resources we need to act rather than simply be acted upon as we go through life...obedience gives us greater control over our lives, greater capacity to come and go, to work and create."
Elder D. Todd Christofferson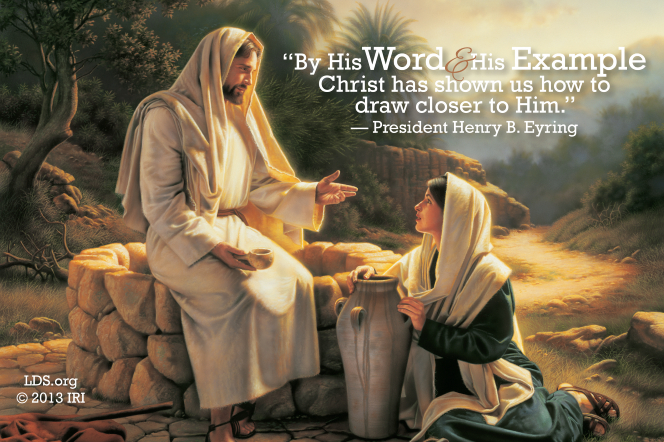 By following the laws of the Gospel and commandments we have promised blessings in our lives. As Elder Christofferson said, as we are obedient we will always have blessings and guidance in our lives. Wow, that is good to know. I can testify that it is true. I have experienced continued blessings in my life so many times. And now I know that it is because of my persistence in trying to be obedient.
Let me share one example with you. I am from the East, but I had an opportunity to live in the West. I love the West. It is where I belong, or so I thought, well it's where my heart is. Anyway, for a few years I kept feeling like I should consider moving back East to Florida but I would always resist and stayed there. One year I finally asked myself why I wanted to stay so badly and I realized that I loved my life there. I wanted to live the rest of my life there, I was so happy.
But that year I felt very strongly that I should move my family back East. I prayed a lot and struggled a lot with the decision to move back. My heart was broken and cried as I left the home and my life that I came to know and love. But I began to focus on my new life. I wasn't a pleasant person to be around for a little while because I was not happy to be back. But I knew I was being obedient to the prompting I received so I tried to find some happiness in being there. That year we were welcomed back with 4 hurricanes, I left Florida after experiencing Andrew in South Florida, so needless to say, I was very unhappy.
I began to pray about my life and why I was there. I chose to follow the prompting and as I began to live my life there I came to see several reasons why we needed to be there. One reason is my children really didn't know their family well because we only visited every other year. So this gave them the experience of cousins, grandparents, etc. They have come to love those people they call family.
Another reason has to do with my bio-dad. I never got to have a real good relationship with him because he remarried and had a new family. But after I moved back we had a small falling out because I never went to see him, and he lived about 45 mins away from me but I drove 4 hours to see his grandmother, his mom. So he was mad at me but I felt like he could come see me too.
After a few months I got a message that he was in the hospital and it wasn't good. I vowed at that time that I would go see him as often as I could and I was blessed with another year and a half with him before he passed away. I was also blessed with the peace in knowing I had done my part in the relationship. I couldn't have done that living far away.
There are so many other reasons why it was good for us to be in Florida at this time of our lives. I have prayed recently about moving back west again, and I received an answer that I should wait another 3 years. I don't know why but I believe that if I am obedient I will be blessed with the knowledge and peace of mind that I need to make these changes again. I will be blessed in ways I can't see at this time. I know and trust Him with my life.
I will never forget that obedience is the first law of Heaven. If Jesus is my example then I have to make obedience my priority forever. I pray you will seek to perfect yourself in this area in becoming more like Jesus.
All my love